Why Star Wars is Literally My Life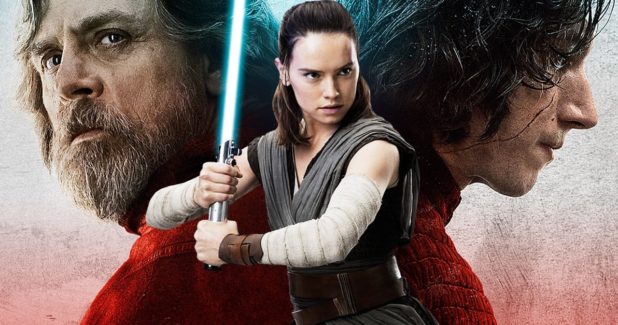 I realize that the title of this article is a bold statement to make. Allow me to qualify, because as a young woman one might question my experience. I was 7 years old when I first saw Star Wars. My dad (aka the greatest hero and influence in my life), took me to see Episode 1 in theaters. We bonded over movies and he used films to teach me valuable life lessons while growing up. We waited in lines and I got the full Star Wars fan experience for every movie that has been released since 1999. I have an immense collection of Star Wars paraphernalia, and have loved this stuff most of my life.
But that's not what makes me a true fan. For me, it comes down to something more spiritual. I have always believed, as many of us do, that the Star Wars saga is irrevocably tied in to the fate of my existence…and I can prove it. This is not a movie review. I LIVE this shit. Last year, while anticipating the release of the film I was not only waiting to see a movie. I awaited my fate, my journey, the continuation of my story. It sounds crazy to some, but if you're a true fan then you know what I mean.
My favorite character used to be Anakin Skywalker. I LOVED him. He was deep and dramatic like me. He loved Natalie Portman and was driven to the darkside by his fear of losing her, and the fear in him was the same fear I saw in myself. I kept Vader helmets in my room on pedestals just like Kylo Ren. I cried when I watched Revenge of the Sith. I cried because I knew that when the time came to choose, I would make the same decisions that Anakin made. This is my favorite movie because of the depth involved in the destruction of Anakin's soul- the brutal transformation he undergoes while killing all that is human about himself. I identified with this tragedy and I accepted this was a fact about who I was.
In my addiction, I would lie, cheat, and destroy things to get anything that I wanted. The appeal of the dark side is that I might one day be able to control my life and my surroundings by becoming more powerful. I had no idea that I am suffering from a soul sickness from within. However, once you give way to the darkness inside of you and it's demands, you will serve a new master. It will use the things you love the most to materialize your greatest fears in life.
Something very strange happened to me in the months leading up to the release of The Last Jedi. I hit a three year milestone in my sobriety by the grace of God and with the help of my friends I faced my biggest fears. One morning at 3 am I was awoken suddenly. The Vader statues, alarm clock, and bed sheets were all staring at me. I had an epiphany that it was no longer my fate to die a villain. I was afraid and shaking. I quickly bagged up my collection of Vader stuff and threw it outside to the trash. It was painful, but it was a symbolic surrender.
Star Wars never fails to guide me through my own struggle to join the light or dark side.
Where Vader once ruled my heart, a fresh young cast of rebels is winning me over. While watching The Last Jedi I found myself rooting for the rebellion and their inspiring love for one another. The humility of Luke and a visit from Yoda stirred sentiment in my heart for those who fight to believe there is still good in all of us. The series stays true to the overarching focus on humanity and our lust for power and wealth. How far must we go? How many planets must we explore? And how many people must sacrifice their lives for us to find peace? It must be why one sunset is not enough. Luke dramatically reminds us that the universe is not ours to control but that the force is ever moving, ever surrounding, and ever balancing itself.
But the dark side is cunning, baffling, and hard to see at times. Kylo Ren tells Snoke, "I've given everything I have to you. To the dark side." After Snoke orders Kylo Ren to remove his mask he tells him, "And look at you. The deed split your spirit to the bone! You were unbalanced." This scene impacted me the most in the movie because you can see Kylo's soul dying. I once again identified with the path he chooses.
I've woken up with bruises and shame on my face after selling my soul one more time. I killed my parents figuratively. When I was laying on that hospital bed at 13 years old being revived by paramedics I killed my father. When I told my mother some of the things I had done she died inside. I had given everything to the dark side years ago. But hope, as we are repeatedly reminded in the film, is a threat to the darkness. When I got sober someone asked me a question much like Luke asked Rey. He asked her, "Who are you? Why are you here?" I was looking for someone to help me find my place in the world as well, but I never thought to look in a meeting of recovery.
One of the most profound scenes in the Last Jedi is when Yoda comes to visit Luke. Do you know how many times over the past 10 years I have asked myself, "What would Yoda say if he were here?" God answers all prayers. Yoda delivered me the most simple yet familiar solution to all my problems. Yoda says, "Skywalker, still looking to the horizon, never here, now, the need in front of your nose." (One day at a Time. Just for today. Keep it Simple.) When I am in the present I cannot try and manipulate the force for my own will. Everyone has a need or a want that they are trying to satisfy, some stemming from darker places than others. When I focus on today and leave the past and the future in the Creator's hands I am one with the force. I have sought many things in my lifetime. I've learned that the thing I value the most in this existence is peace. When I am one with the Spirit and fulfilling my purpose in life then I am at peace. I believe my purpose in life is to share this hope with others who are hopeless.
I walk with a band of rebels, and rebellion dogs our every step. I have a group of friends who have loved me back into society. The strong friendships that Star Wars has always depicted inspires hope. I have had the good fortune of finding friendships like these in sobriety. Rose tells Finn, "That's how we're gonna win. Not fighting what we hate. Saving what we love."  If it wasn't for friends trying to help me grow beyond them, as Yoda puts it, I wouldn't be here. With the leadership of Leia the imperfect rebels try and make each other better. They use what they have and put each other before themselves. The rebels remind me that love is the only thing really worth fighting for and that oppression only makes us stronger by bringing us together.
Star Wars is the great story of mankind disguised in sci-fi so that only us nerds can understand. It's the roll call to assemble, but not for a group of chiseled super heroes. It's for anyone who can identify with being less than perfect, deeply flawed, or scared. For anyone struggling with an inner battle between their own light and dark sides. It's the reminder that even when the whole world rejects you, maybe you are on the right path to being a hero in your own story.
If you enjoyed this article, check out our previous article on The Force Awakens here.
Comments 2