Running Away From Fear: What Star Wars Can Teach Us About Sobriety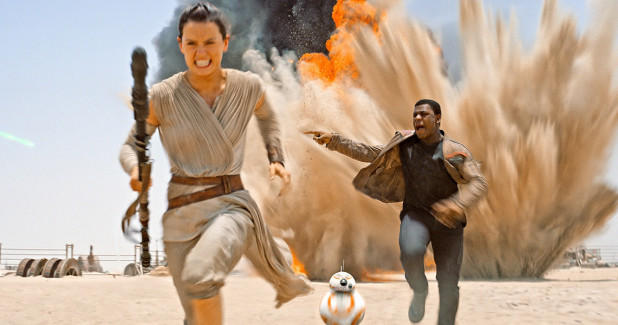 By now most people have seen Star Wars: The Force Awakens, but just in case you haven't: SPOILERS BELOW!
 Like most other loyal Star Wars nerds, I thought the film was fantastic! After my second viewing, I still find myself relating to several of the themes and characters in very personal ways. Specifically, both Kylo Ren and Rey deal with issues throughout the story that mirror the doubts and fears I've held in my own life.
If the dark side was a drug, Kylo, Leia, and Han would fit perfectly into a stereotypical model of a codependent family with an alcoholic/addict child. In the great scene where Han and Leia are discussing Kylo Ren, we hear Han say "he has too much Vader in him", which is the perfect Star Wars analog to "Well, your father is the alcoholic!" Han is already convinced that their son is lost forever to the dark side and has already tried his best to move on. Leia responds by putting the blame on someone else (in this case, a dark lord who looks like he's been doing meth for wayyy too long), reassuring Han that there is indeed still hope for their son, and that he should go bring him back home. Well, it looks like that wasn't such a great idea, was it Leia?
Jokes aside, seeing this back and forth between Han and Leia made me imagine what this type of conversation was like for my mom and dad when I was first getting sober. It really struck a chord for me.
Out of all the new characters in this film, I was most inspired by Rey. Towards the beginning of the movie, we see her putting on a rebel helmet in the shade of a fallen AT-AT, playing out a childlike adventure fantasy in her own head against the backdrop of the harsh desert that she labors in. When she picks up Luke's lightsaber for the first time, she sees visions of what her real life adventure is actually like and is so scared that she literally runs away! The whole time she wants to go back to Jakku, nurturing the comforting but false belief that everything will turn out fine if she just goes back to the way things were. She is terrified of facing her own unknown potential for greatness; scared of not having what it takes to succeed. Despite her fears, she manages to show up when she is really needed, and is able to defeat Kylo in the final lightsaber duel to save the day. By the very end of the film, we see her seeking out Luke in a "will you sponsor me?" kinda way as she fully embraces this new life that she's been given.
In contrast, Kylo Ren is driven by his fear of inadequacy to commit acts of anger and hate. He lashes out against those who really care about him (e.g. Han Solo) because his own fear of not being as powerful as Darth Vader consumes him. In his selfish quest for more power, Kylo discards his own humanity while wallowing in self doubt. Although he is deeply conflicted, he can't ever muster the willingness to do right by himself or his family. No wonder he's so emo.
As someone who has struggled with getting sober in the past, the fears that these two characters face really hit home. Like Kylo Ren, fear of not being good enough drove a lot of my actions while I was drinking and using. Like Rey, I've ran away completely when real life got too scary or hard. Even after I got sober, these fears didn't just go away on their own. Luckily, with some willingness and some help from others I've been able to work through and process a lot of it, enabling me to embark on my own successful (non-galactic) adventures.
If you're struggling with sobriety or feelings of being inadequate or alone, remember what Maz Kanata said to Rey:
"The belonging you seek is not behind you, it is ahead."
Thanks for reading! Please let us know your thoughts in the comments below!
Comments 0