An Intense and Sweaty Journey Into the World of Hot Yoga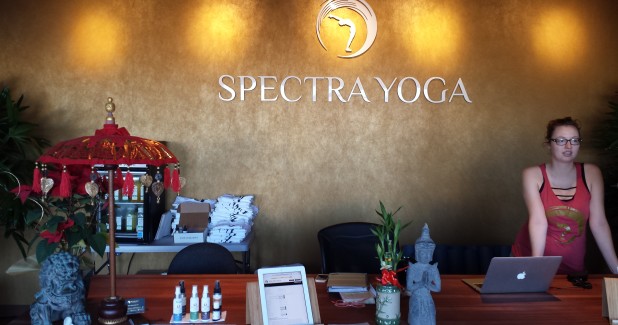 This past weekend I dragged fellow Nerdy Sober Hipsters editor Liz to explore the intriguing world of yoga in a well heated room. Like many other addicts and alcoholics, we had both been introduced to meditation and breathing exercises while in rehab, and thought that it was a good experience. It turns out that our initial dabbling in the world of mindfulness and eastern spiritual practices while institutionalized has now become a gateway drug to full blown spandex underwear and sweat. Lots and lots of sweat.
Now, let me be clear: I had never done yoga before. What is a downward dog? I had no idea, but I tried to go in with an open mind. Luckily my roommate and his super-into-yoga girlfriend were there with us, so we had some proper guidance as we leaped onto our yoga mats for the first time. For this foray, we went to Spectra Yoga in Costa Mesa, which is a very nice studio with a chill vibe and awesome staff. It turns out that most yoga studios offer newcomers up to a whole week of free classes, just so that you can try before you buy. This is awesome, since yoga studio memberships tend to be quite a bit more expensive than a regular gym membership.
When we entered the studio, the first thing I noticed was that (as advertised) it was pretty hot, hanging at about 85-ish degrees if I had to guess. Since it was a somewhat chilly morning, being in a heated room at 7:55am was actually pretty nice. However, as soon as the class started, the heat intensified simply because now we were in a room full of moving bodies. Our yoga instructor was very upbeat and obviously very experienced. She jumped right into it, giving instructions as she demonstrated a slew of positions and stretches. The entire class (about a dozen people) tried to follow her examples as accurately as possible for the next hour and a half, with 3 or 4 quick breaks for water in the middle.
There are 3 main things I took away from this class:
1.) I am terrible at yoga. Like, seriously, I'm the worst.
Standing on one leg is hard enough as it is, but rotating my entire body to be parallel to the ground with my arms entangled while doing it? I'm honestly super stoked that I managed to avoid falling on my face. Everyone else in the class was noticeably more graceful and could actually do most of the poses, which makes me respect all those girls who post yoga photos on Instagram a whole lot more. This stuff is hard!
2.) Humans can sweat way more than I thought was possible.
Like OH. MY. GOD. I should have brought two towels.
3.) Yoga makes you feel amazing!
In all honesty, right after the class was over I didn't feel great. I was still drenched in sweat and wobbly from stretching things that have NEVER been stretched before. However, after class we all got breakfast together. As soon as my body began processing food it was as if I was being propelled into some kind of intense all over body-gasm. I felt light, relaxed and happy (but still kinda tired). This feeling stuck with me for most of the day, and is the main thing that would draw me back for more.
Overall, our first hot yoga class was a very worthwhile experience. Since I'm a beginner, it was admittedly a bit more intense than I would have preferred, but the payoff was proportional. Would I do it again? Probably, but I would make sure to go with friends. Sharing the experience with people you like makes it that much more memorable!
Comments 1