Tips for Traveling With Your Significant Other
Life / /
Sep 25, 2017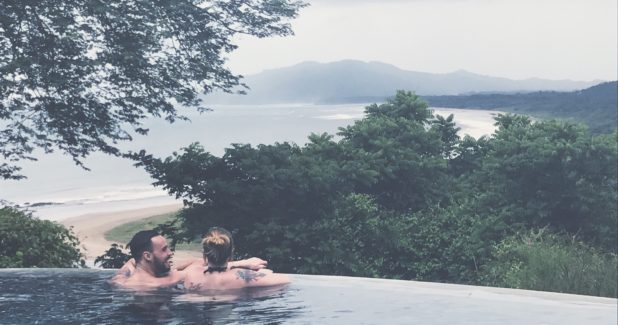 My boyfriend and I are two radically different people. For example, I am a neurotic mess of anxiety, who constantly checks the time and re-calculates how long it will take for me to arrive at any given location.  My boyfriend just assumes it will take him 15 minutes to get there.  No matter where "there" is, it is 15 minutes away.  I plan for everything weeks in advance, and write out full itineraries for something as simple as going to the grocery store.  My boyfriend is more of a "play it by ear and see what happens" type of guy.  So the idea of the two of us travelling internationally together, going to Costa Rica for an entire week, sounded mostly romantic and adventurous, but also just a tad bit petrifying – especially when I realized he had not even started packing, the night before we were to leave.  Fear not, we both made it home alive, in one piece, and had the adventure of a lifetime together, save for a few little bumps and bruises along the way. Here is everything I learned the first time I traveled internationally with my significant other.  
1. Let it go.
Whatever "it" is, let it go, because it is not worth ruining your vacation over.  For me, it was the way he made jokes while in-line for airport security.  Ninety-eight percent of the time, I love his sense of humor.   He could make me laugh on the absolute worst day of my life.  However, when his humor crossed paths with my anxiety, it was not pretty.  Add fear to the concoction, as I have never been fond of flying, and I had a brand-new resentment just waiting to boil over.  Airports are always a high-stress, fast-paced environment, so make a decision ahead of time to let it go until you have reached your destination.  On the other hand, never minimize your partners fears or anxieties.  Hold their hand, and be understanding.  Assure them that you will both find your way, together.  
2. Eat.
Between Zip-lining and Horseback Riding and Stand-up Paddle boarding, there were quite a few days where we simply didn't have a free moment to eat lunch.  The Hangry Zone should be avoided at all costs on vacation.  Many a snide remark could have been avoided if I had listened to my own body and recognized that I needed to eat something.   If you unfortunately find yourself having skipped a meal and are facing homicidal tendencies towards your significant other and everyone else around you, do everyone a favor and make getting a snack your top priority.  I guarantee almost all your problems on vacation can be solved with some good food.  
3. Never get annoyed when your partner asks to take a photo.
My boyfriend and I have been talking about this trip for years.  I have dreamed about it since our first date, when he told me that his favorite place on the planet was Costa Rica.  I wanted to remember every second of this vacation.  I had to document absolutely everything.   Every kiss under the sunset, every cigar at night by the pool, every adventure, every breath-taking view, and yes, every plate of delicious food.  I was beyond grateful that my boyfriend was patient, posing for just one more picture, and even mentioning, "Hey I think the lighting is cooler over there".  Someday, when we're old and grumpy, I'll pull out our photo albums and relive those moments, and I won't forget a single one, thanks to his patience.  
4. Recognize each other's strengths and weaknesses.
The bottom line is, I am good at planning, and he is good at pushing me out of my comfort zone.  He picked the adventures, and I made the arrangements for ride-services, and booked our day trips.  Of course he wanted to go through a canopy tour with zip-lines, Tarzan Swings, and rope bridges, knowing full well that I am deathly afraid of heights and falling.  Nevertheless, I booked the trip and he cheered me on through the entire course, hundreds of feet up in the canopy of the jungle.  I conquered my fear of heights, and got to meet some pretty cool monkeys along the way.  
5. Appreciate the small moments.  
It's so easy to get caught up in whatever you want to do next.  There is so much to do and so much to see and so much food to eat!  Remember, to take just one moment, at the very least, to sit in silence, and appreciate that somehow, through some twist of fate, or some cosmic plan from the universe, the two of you ended up together, in that very spot.  That, in itself, is pretty incredible.  
Comments 3