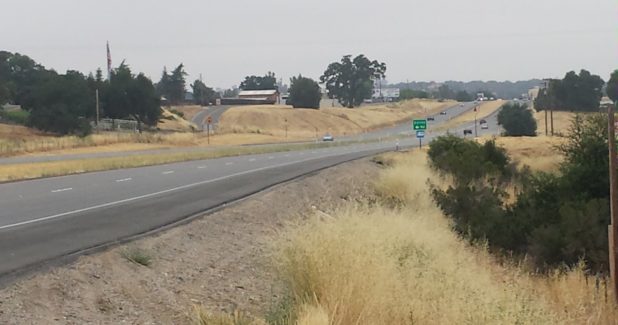 As cliché as they are, the metaphors relating taking a  journey to living your life can be very accurate. There is a beginning and an end. There may or may not be a purpose or a plan, and even if there is, the entirety of the experience can't be evaluated until it has passed.
This past week I took a solitary road trip from Orange County to Santa Cruz to visit my old friend, Bryan. We were roommates in college; he knows me very well from the days when I was getting drunk and high on a regular basis. Honestly, I was a bit anxious about seeing him since quite a bit of time has passed since we last met, and so much has changed.
I took a vacation day from work and left early in the morning on Friday. My idea was to start driving at 3am and get there a little before noon the same day. The drive is about 380 miles each way.
At the beginning of the trip, I was seriously dreading spending so much time alone on the road. As any alcoholic can tell you, time spent alone with your own thoughts in a stressful situation can be the worst experience, period. Surprisingly, this was never an issue. Taking the 101 freeway all the way, I constantly stopped to take pictures of the gorgeous scenery. One of my roadside stops lead me up to a farm. Being by myself, I found that I could cater to my spontaneous curiosity and meander around for a bit.
When I finally arrived in Santa Cruz and showed up at Bryan's house, my previous anxieties about meeting with him completely vanished. The feeling of reconnecting with an old friend and having all the distance of time and space replaced by a genuine sense of familiarity was heartwarming and life-affirming. He and his fiancee Jamie showed me around town and we had an amazing time! We talked extensively about everything and caught up on how crazy life has been for everyone the past few years.
We spent our time hanging around the part of town that surrounds UC Santa Cruz, since that is where Bryan works. I would describe the atmosphere as "free spirited". In the shops and restaurants just about everything was local,  fair trade, organic and/or vegan. Everyone was dressed casually and the vibe was generally laid back. We had brunch at a fantastic little spot called Cafe Brasil, which apparently is a local favorite serving up generous portions for breakfast with lots of vegan menu options (obviously!).
The drive back down to Orange County was even more beautiful than the drive up! Hitting the road at just the right time in the afternoon, I was greeted by flocks of birds flying alongside my car, a lonesome tumbleweed rolling along across a field, and fog capped mountain passes. Ironically, the part of the trip I was dreading the most turned out to be one of the most incredibly relaxing experiences I've had in recent memory.
Nevertheless, I did have lots of time to reflect. I remembered vividly those days Bryan and I spent in college, when I was just beginning to make substance abuse a routine part of my life. I realized on the drive down the 101 how far I've come, and I felt grateful. At 20 months sober, my life is incredibly different from what it used to be. As I found myself driving down this giant Golden State, the gravity of the journey I've made through sobriety became very clear, and my mind was serene. This long drive all of the sudden took on a ritualistic quality, as if I was figuratively traveling away from my past and into the future, full of confidence that there's even more amazing stuff ahead.
Comments 0