The Best Lovey Dovey Valentine's Dates in Orange County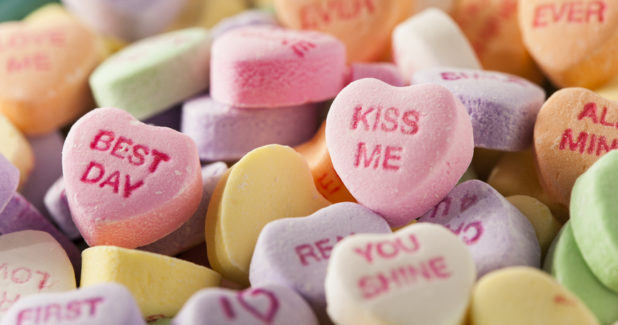 Without a doubt, Valentine's Day arouses one of two feelings for you: pure excitement and anticipation, or absolute dread and disgust.  There is no in-between.  For quite some time I fell into the latter group.  I firmly believed that Valentine's Day was a consumer holiday made up by Hallmark to capitalize on greed, selfishness and entitlement.  I avoided the red and pink heart themed aisles at the grocery store and scoffed at every valentine toting teddy bear I came across.  However, looking back, the alcohol, drugs and codependent, expectation filled relationships may have had a little something to do with my pessimism, because I've thoroughly enjoyed my past couple Valentine's Days sober, no matter my relationship status.
Last year I got to spend my Valentine's Day with this dude.  A local tattoo shop was running $50.00 specials on palm-sized, pre-drawn tattoos.  So we each got our ink fix, and then had dinner at a cute little restaurant called Cucina Alessa, right on PCH.  He is being secretive and cruel, and refuses to tell me what our plans are this year.  So I've taken it upon myself to compile a list of date night ideas.  You know, for the sole purpose of helping you out if you've  hit a roadblock in planning a special night for your sweetheart, or just want to do something fun with friends. (I am in no way sending some subtle hints in the direction of my boyfriend.) *hint hint* Babe, take a scroll.
Time: 11AM – 9PM
Location: 1838 Newport Blvd, Costa Mesa, CA 92627
Price $20.00 each
Agape Art Collective is doing another Valentine's Day special on pre-drawn tattoos! Keep an eye on their Instagram, @agapeartcollective for a post showing all of the possible designs. Great idea for getting together with your friends! There will be a long line, so download some fun games on your phone and be prepared to do a lot of waiting.
Gondola Cruise in Newport Beach
If you're looking for something a little bit more romantic, maybe, a gondola ride?
Time: By Reservation, available Daily, 24 hours.
Location: North End of Newport Harbor
Price: $135 for a 2 person ride, which includes sparkling cider and gourmet chocolates.
Hot Air Balloon Ride at the Great Park
For you thrill seekers, Irvine's Great Park Hot Air Balloon ride is perfect!  Enjoy the view from 400 feet above the ground!
Time: 7PM – 10 PM (Weather permitted)
Price: $10.00 per person
*There is currently no address for Great park, so check out their website for more information on directions!
For those of you with a sweet tooth, your perfect date, or friendly adventure awaits you at ChocXO.  On Valentines Day this chocolate shop will open their doors for a behind the scenes tour, where you'll get hands on experience during a chocolate bark baking class.  One great plus to this adventure? You get to take home over a POUND of chocolate bark.  OVER A POUND.
Time: 2PM on Valentines Day
Price: $25 per person
Location: 9461 Irvine Center Drive
Irvine, CA 92618
Intimate Valentine's Show with Steve Trevino
And for you comedy lovers, check out Brea Improv, hosting an Intimate Valentine's Day Show with Steve Trevino!  You may know him from Netflix's new Original Series, Relatable.
Time: 8PM, Doors open at 6:30 PM
Price: $30 per person
Location: 120 South Brea Blvd. Brea, CA 92821
However you choose to spend Valentine's Day this year, just remember you are surrounded by people who love and appreciate you.  In the spirit of the holiday, tell someone how much they mean to you!
Comments 0