Learning Humility: What Dr. Strange Can Teach Us About Sobriety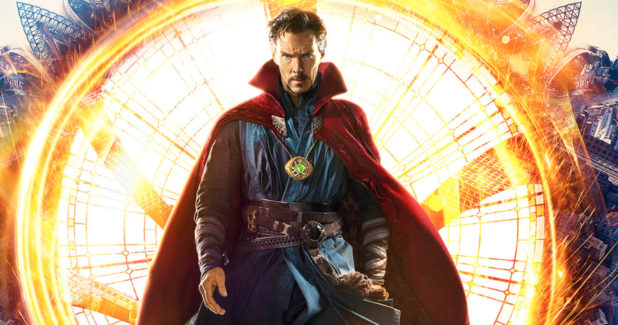 I hope everyone reading this has already seen the latest Marvel blockbuster starring Tilda Swinton and Benedict Cucumber-patch, but if you haven't here's a fair warning:
Spoilers Below!
Dr. Strange is hands down my favorite Marvel movie to date, since just about all the themes present blatant parallels to some common experiences in sobriety. I felt like this story was written specifically for me!
At the beginning of the film, Dr. Stephen Strange is a brilliant neurosurgeon who also indulges in being an arrogant prick. His sole purpose in life is to gain recognition and glory through his work. He takes all of his personal relationships for granted, and ends up ruining everything as the result of his own egotistical worldview. Even the car accident that caused his career-ending hand injury was the result of his own selfishly reckless actions.
Desperate for a solution, he exhausts all of his options for recovering and finally seeks out spiritual teachings from a mysterious figure known as the Ancient One. When Strange first arrives at Kamar-Taj monastery, he is instructed to "forget everything" he thinks he knows. This proves to be quite difficult for him, and he immediately insults and dismisses the images of chakras and acupuncture that the Ancient One offers him. This leads to the Ancient One forcefully demonstrating the existence of the spiritual plane by tossing Dr. Strange's astral body around the multiverse.
Throughout the first part of his training, Dr. Strange struggles with the simplest magical tasks. He asks the Ancient One how he can even begin to gain the skills that she has. She responds by asking him how he gained the skills to become an amazing neurosurgeon, at which point he realizes the answer to both questions is "Practice and study, years of it."
Seeing him continue to struggle, the Ancient One tells him that he must surrender to the power that he is trying to control. She says: "You cannot beat a river into submission. You have to surrender to its current and use its power as your own." Strange reacts by saying that this teaching does not make any sense, before swiftly being teleported onto a mountain in the Himalayas and left to figure it out for himself.
Strange eventually learns enough to excel at magic and surprises the other students, the librarian, and even the Ancient One. He begins to question the lessons he is given, and sneaks into the library to read books he isn't supposed to read.
A key turning point comes when Strange has a conversation with the villain Kaecilius about the Ancient One's source of power. When he learns that she has been drawing energy from the dark dimension to maintain her immortality, we see Strange quickly begin judging his teacher. He calls out the Ancient One when they next meet, and she cautions him, saying that he may not know what he is talking about.
When Mordo sees confirmation that the Ancient One is actually drawing power from the dark dimension, he acknowledges that Strange was right about her, that she wasn't who he thought she was. Finally, after the Ancient One dies, Dr. Strange comes to terms with the fact that his mentor was "complicated".
In many recovery programs, it is essential to work under a "sponsor"- a mentor who has been sober for longer than you. A sponsor's job is to guide you through the many lessons and obstacles that sobriety brings. In some programs, these lessons are spiritual in nature.
When I began working with my first sponsor, I was desperate for a solution to my problem just like Stephen Strange. At first, I was completely dependent on my teacher's guidance. He had all of the knowledge, and I had none of it. As time went on, however, I gained knowledge for myself and started forming my own opinions about how sobriety works. Inevitably, this lead to arguments and me questioning some of the things I was being taught. There were also episodes when I would judge my sponsor, after seeing instances when he would not practice what he preached 100% of the time.
A chain of events lead to us eventually parting ways, and I found a new sponsor. Looking back, it is easy to realize now that no one is perfect, and even someone who I regarded as an extremely wise and dependable teacher had his own fairly obvious personal flaws. My first sponsor, much like the Ancient One, was "complicated". I can also be complicated sometimes, and have deeply rooted flaws of my own.
Despite his flaws, my first sponsor taught me countless useful and profound life lessons that I still practice on a daily basis. Despite my flaws, I was able to learn enough humility to take guidance from another person and eventually find my own path.
I realize now that the instances when my sponsor left himself vulnerable were times when I learned the most from him. Similar to how the Ancient One finally opens up to Strange right before she was about to die, my sponsor gave me the most insight when he was unguarded and authentic. This is a lesson I take to heart as I guide other guys down a similar path.
Even though we may fall short in a million different ways, as the Ancient One and Dr. Strange have shown us, through humility, practice, and study eventually we may learn to live above our demons.
Comments 2