Extraordinary Adventures at The Royal Cup Cafe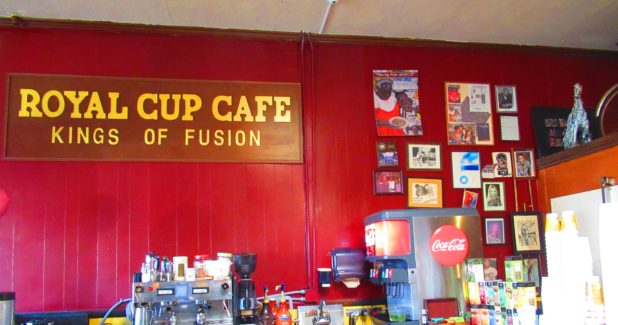 There is something to be said for a place that feels like home and yet still surprises you every time you're there. Walking in the door, one can find familiar faces and comfort food beyond compare. Some will be taken aback by the pure eccentricity of The Royal Cup Cafe. The cafe is located on the corner of 10th and Redondo in Long Beach's Eastside neighborhood. There is always a buzz in this neighborhood that makes coming here exciting. The Royal Cup Cafe is an adventure from the ordinary to the extraordinary.
I first encountered this little escape when I had heard that other sober people frequented here. In need of a good study spot, I was looking for good people, good food, comfy couches, and of course, free Wifi. It's amazing how many people I can run into here, either fellowshipping or studying for a class. I come every Sunday, as often as possible, either with a book or a notebook where I practice drawing. Sitting at the small table and chair sets, I'm able to tap into a lot of inspiration from the surrounding activity.
Once settled in, one is awakened to a world of art, culture and cuisine. Playing over the sound system at any time of day is the locally broadcast radio station, KJAZZ, filling the restaurant with an upbeat harmony. A collection of international relics and local artists' paintings occupies every open space not designated for customers. The counter, café and kitchen have lots of open seating -welcoming arms waiting for customers to flood in.
Declaring themselves the "Kings of Fusion", this restaurant serves nothing but flavor. The generous menu covers everything from breakfast, salads, and panini to cafe style coffee, smoothies, and house made desserts. One can find the Lox Bagel; don't forget to add jalapeno for a "Royal Cup special" kick.  A salad, covered in fresh fruit, sliced black olives or sun-dried tomato, is served on a large wooden bowl and can feed two exploratory foodies happily. They won't let you forget about dessert, with a menu setting at every table featuring a triple-layer chocolate cake and vanilla ice cream and mango treat.
Raj, the South Asian owner, is often running around greeting patrons and cooking back behind the counter. He's usually delighted to help customers navigate through the fusion of flavors and comfort. For a quick stop, a study session stuck behind a laptop, or dinner with friends and colleagues, everyone can fill their bellies with goodness here.
Sometimes I visit the cafe with the intention of getting something done. I bring all my books and find a good spot to sit for a couple hours. The subtle jazz playing over the speakers helps get me into a good rhythm. I consider the Royal Cup Cafe my home away from home now. It has been a staple in my sobriety, sometimes my only opportunity to see my people outside of class and work. I certainly believe in exploring all life has to offer, and have been able to travel to many different places through the art and culture covering the walls. I've also learned how to sit still and listen to the world here. Sometimes, if you're not sitting still, you'll miss what's right in front of you.
Comments 0