Dazed and Confused in Qingdao, China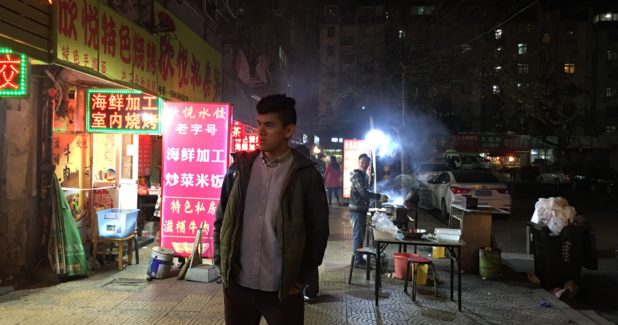 There are several things that I have never enjoyed about going to China. The air is hard to breathe, it's crowded, there's no concept of "personal space", it's hard to find public restrooms, and things are dirty. Despite all this, I'm really glad I went.
My grandmother just turned 80 years old. In Chinese culture, this is a VERY big deal. The occasion prompted a family trip back to my place of birth, Qingdao. A couple weeks ago I left SFO with my mom, uncle, aunt, cousin, and 8 fat suitcases filled with gifts and souvenirs for extended relatives.
I think of Qingdao as the Boston of China – it's right on the northeastern coast and is famous for it's beer, seafood, and drinking culture. Every summer there's a huge beer festival. If you wander into any Chinese restaurant in the states, chances are you'll see some beer in green bottles marked "TSINGTAO", which is just another Anglicized spelling of Qingdao. It's an appropriate place for a recovering alcoholic like myself to have been born, I suppose.
I was anxious about going on this trip. My family history contains some really sad, dark stuff from before I was even born. Mostly the kind of stuff that Asian families don't talk about, on purpose. For the sake of my family's privacy, I won't get into it. Everyone just has an unspoken understanding that these things are better left untouched.
However, I've learned in sobriety that even when we think these kinds of problems can be left rotting in the closet, the smell eventually leaks out. So, even though the occasion for going back was ostensibly a joyous one, there was a looming backdrop of decades worth of unresolved issues, hurt feelings, and guilt. These things are hard to live with.
Nevertheless, I made the choice to tag along. The last time I was in China was 7 years ago, when I was active in my addiction. It hadn't gotten to the point where my life was falling apart yet, so I was happily blacking out in some random night club with my older cousin who was showing me around at the time. At the end of that trip I declared that I would never come back to China again.
Things are different now. I've been sober for 2 and 1/2 years, and somewhere along the line I developed a conscience that tells me it's important to show up and be a part of my family (at least for the important stuff). So, I got on the plane with an open mind, hoping that this trip would be a good experience for everyone. Also, my mom offered to pay my way, so that was nice. Thanks mom!
We arrived at Qingdao Liuting Airport in the early evening on a Wednesday, local time.
I forgot how overwhelming it is to be in a non English speaking country. My Chinese is terrible, so it's awkward to try and communicate in any meaningful way. I also get overwhelmed by the sheer scope of China. From any tall building in the city, you can see an endless mass of humanity. It can be dizzying if you look too long.
The pace of construction is also breathtaking. When I used to visit as a small child, most people didn't have cars. There were also very few skyscrapers. All that has completely changed in the past 20 years.
I love my grandma, and I was glad to see her. Here's a picture of us together at her place.
Despite all the negative stuff I mentioned earlier, family is family. Things went well, and we had some really nice meals together.
Now, speaking of food.
Easily, the most uncontroversially enjoyable part of the trip was the food. I spent the first four years of my life in this city. When my tongue gets in contact with the flavors that I subconsciously latched onto in my early childhood it feels like I revert back to being a different person. It's as if some latent part of my genetic makeup gets alerted to the fact that, in actuality, I am a real Chinese person, and now I'm home.
In my opinion, one of the best places to eat is this little touristy destination called Firewood Courtyard. It's actually a promenade that consists of about 4 blocks of little restaurants and street food stalls. The vendors in this area will compete for your attention and your appetite. As you wander down these alleys you will hear the vendors sincerely yelling things like "I got meatballs! These meatballs are DELICIOUS! Try them NOW! If they're not DELICIOUS, they're FREE!" or "SQUID ON A STICK! I SWEAR AN OATH that this is THE BEST SQUID ON A STICK YOU'll EVER HAVE!"
In Qingdao, you eat fresh seafood. It's cheap, and it's everywhere. Firewood Courtyard is no exception.
And then, there's meat buns. In China, the fine and respectable art of taking a meatball and wrapping it in carbs has been elevated to a level of refinement that can only be described, I believe, as beautiful. Meat buns and dumplings come in different flavors, sizes, and textures.
For me, the perfect meat bun has the ability to inspire joy, wonder, and an appreciation for my fellow man. As I bite through the fluffy exterior into the juicy and robust center, I affirm to myself, "Yes. The people who make this food are indeed my people. These are men and women of sound intellect and admirable character. I belong amongst them here, and this is what it truly means to be Chinese."
Despite the constant smog, there were some times when I found myself charmed by the unpretentious beauty of my original hometown, especially at night.
When all is said and done, I'm very grateful for the opportunity I had to go on this family trip. I made it through traveling half way across the world in one piece, and still sober! It's definitely added a broader view to my perspective, and color to my memories. Thanks for reading!
Comments 0