Organizing a Camping Trip: 6 Tips For Awesome Success
Life / /
Jul 14, 2016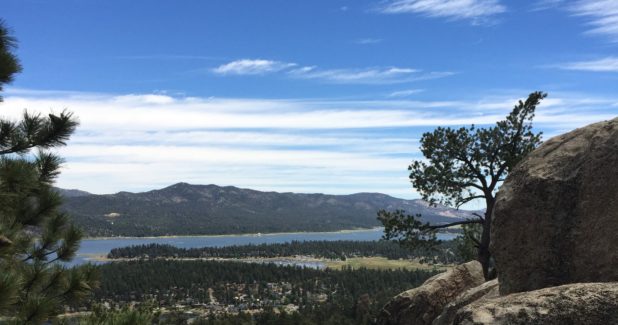 For the past two months, I have been planning and putting together a camping getaway for a group of my friends and myself. Throughout the process there were moments of doubt (that I wouldn't be able pull this off), worry (that the day would come and no one would show up) and straight up fear (because I was about to lead a group of 12 people into the wilderness for a whole weekend). Finally though, the day came, and as all my plans came together, so did my friends – and the 12 of us set off for Big Bear Lake and the beautiful campground that awaited us.
Big Bear Lake is situated in The San Bernadino National Forest. During the winter it is a popular snowboarding and skiing destination, and over summer it welcomes people from all over the world to explore fantastic hiking trails, epic scenery and fun adventures such as zip lines and helicopter tours.
The first night of our arrival was spent setting up camp. I was overjoyed that each member of our group worked together to help each other with unloading cars and setting up tents. Before we knew it, our temporary home was complete and the campfire was ablaze, just in time for dinner and s'mores.
On day two, we set off on a hiking trail up to a lookout point called Castle Rock. The trail is straight up hill, but definitely worth the pain in your calves and burning lungs. At the top of the mountain sits a structure of giant boulders to climb on, and the view from the top is absolutely breathtaking.
Upon finding our way back down the mountain we all had lunch together at a picnic area on the lake. We spent our last evening enjoying each other's company, playing cornhole, cooking a family dinner, and ended our night with a short hike and star-gazing.
While sitting at our campsite, amidst a group of my cheerful, laughing, and joking friends,  I realized that I had let fear and worry prevent me from planning a trip like this for quite some time. If you want an experience like this, commit to it. Don't let anything stop you. Stop worrying about who will want to go, stop worrying about how to pay for things, stop worrying about if people will approve of your plans. Stop worrying, and start planning. To get you started, here are a few tips that helped me plan this trip and keep it on an affordable budget, so that you can start planning the camping experience of a lifetime for you and your friends as well:
1.) Pick a campground away from the main tourist location. Ours was about 2 miles down a dirt road away from the lake. It was secluded and the dirt road was A LOT of fun. It was also 30$ cheaper per night.
2.) Book the sites and THEN invite people. People are more likely to commit if you already have concrete plans. You can always cancel your reservation up to a week before for a full refund at most campgrounds.
3.) Ask friends for help with collecting supplies. You will be surprised how many connections each person has and what they can bring to the table.
4.) Buy food that is easy to cook, and cheap in bulk. We spent around $180 on food total for 12 people – that breaks down to around $15 per person – and then told everyone to bring snacks.
Don't be afraid to ask your friends to pitch in this area. They will be happy to.
5.) Spring for the $30.00 corn-hole game at target. SO WORTH IT.
6.) Enforce the buddy system. Or you WILL lose a member of your group on a night hike.
Let me tell you, there is no feeling comparable to the victory of being amongst a group of your smiling friends and knowing that you played a part in putting those smiles on their faces. Best. Feeling. Ever.
Comments 4